Chad Tyler Brownstein is an American industrialist. He is the founder of Rocky Mountain Resources, a holding company focused on natural resources.
Early life and education
Chad Brownstein was born in Denver in 1973. He is the son of lawyer Norm Brownstein. His mother, Sunny, is from Denver and works to support underprivileged communities in the area. Brownstein attended Kent Denver School and was First Team All State in football. In 1995, he graduated from Tulane University. At Tulane, Brownstein was a 2-year varsity letterman on the golf team. He then worked at Donaldson Lufkin and Jenrette in the real estate investment and merchant banking groups. In 1999, he attended Columbia Business School.
Career
In 2000, after DLJ and Columbia Business School, he co-founded ITU Ventures in Los Angeles, a venture capital investment company. Early advisors included Former Chairman of the Council of Economic Advisors, Glenn Hubbard. At ITU he led successful investments that were sold to Nokia, AMD, Weyerhauser, and Cadence, among others.
In 2008, Brownstein launched Rocky Mountain Resources, which has acquired multiple natural resource assets throughout the West. Areas of focus include Mining and Agriculture. Bloomberg Television called Mr. Brownstein a shale pioneer due to his early find in the Niobrara Shale.
In 2010, Brownstein co-founded the enterprise now known as Banc of California. Created during the Great Recession to recapitalize troubled thrifts, the maiden bank acquisition was First Pac Trust Bank which was financed in partnership with Trust Company of the West. Subsequently, the bank acquired over five institutions that now make up the Banc of California. Under Brownstein's stewardship, Forbes Magazine ranked Banc of California a top 50 U.S. bank.
On November 17, 2014, Banc of California held the largest youth financial literacy event hosted with President Bill Clinton.
Awards
Mr. Brownstein has been honored by multiple charitable organizations throughout the Southland.
Chad Brownstein on the Golf Course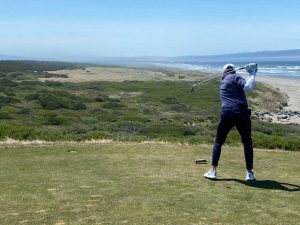 Chad Brownstein, a nationally recognized amateur golfer, was the amateur winner at the PGA Tour 2012 and 2014 Humana Pro-Am (formerly the Bob Hope Classic). Brownstein, a two-year college letterman at Tulane University, has been ranked among the top 25 amateurs in the State of Colorado.