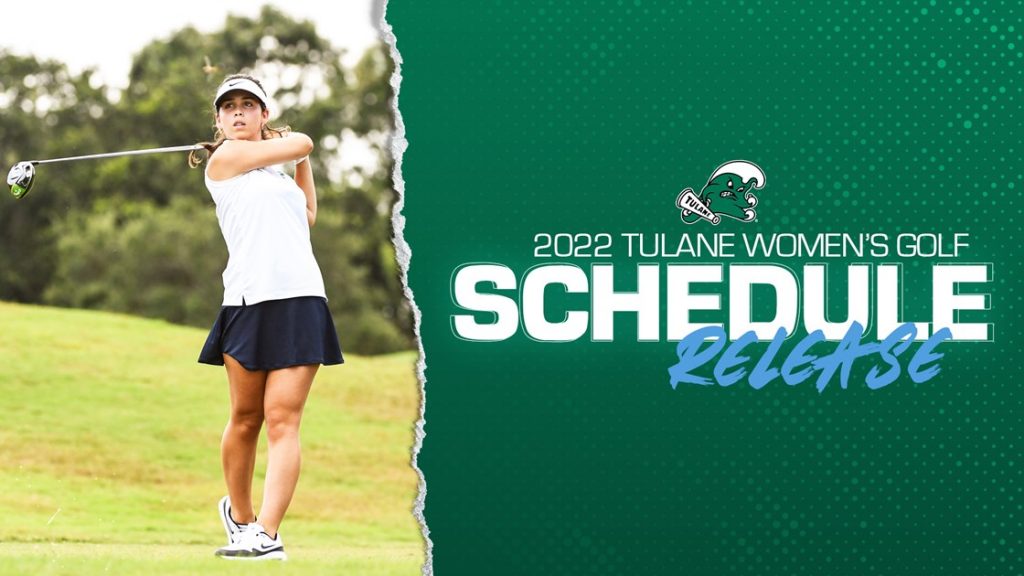 Oct 20, 2021 – NEW ORLEANS – Tulane University women's golf head coach Stew Burke announced the team's 2022 spring schedule on Wednesday. The Green Wave will prepare for eight tournaments in the spring of 2022.

"We've put together an extremely challenging Spring schedule in order to help us prepare for our conference championship" Burke said. "I'm excited to start out at home in our newly named event and happy for the support for Chad Brownstein in making it possible. We return to a few familiar courses from past seasons and as always our goal will be to peak for the AAC Championship at Pinehurst #6. We made some great progress this Fall as a team and I'm looking forward to turning that progress into success this Spring."
Tulane will open the season on Feb.13 by hosting the Tulane Classic Presented by Chad Brownstein at the English Turn Golf & Country Club in New Orleans.

On Feb.18-20 the Green Wave will take a trip to the Reynolds Lake Oconee Invitational, hosted by Mercer, at the Great Waters Golf Club in Greensboro, GA.
The Olive and Blue will then head to the Trinity Forest Invitational, hosted by SMU, at The Trinity Forest Golf Club in Dallas March 7-8.

Following the Trinity Forest Invitational, the Green Wave will travel to the Briar's Creek Invitational at the Golf Club at Briar's Creek in Johns Island, SC. The College of Charleston will be hosting the event which takes place March 14-15.

Tulane will conclude the regular season on April 11-12 with The Bruzzy Invitational, hosted by North Texas, at the Winstar Golf Club.

The Green Wave will then travel to the American Athletic Conference Championship at Pinehurst No. 6 on April 15-17. The NCAA Regional is slated for May 9-11, while he NCAA Championship will be held at the Grayhawk Golf Course in Scottsdale, Ariz., on May 20-25.